The research activities of the CRC EASE are structured into three main Research Areas (H, P and R). Each Research Area consists of several subprojects. On the following page you find an overview of the subprojects, their research focus, and leaders (Principal Investigators).
Further subprojects include the Project Management and Central Services (Z) for the administration and coordination of the CRC as a whole, the Integrated Research Training Group (MGK), the Information Infrastructure (INF) for the storage, management, and maintenance of the data generated by EASE, and the Laboratory Infrastructure Support (F) for the establishment of the EASE central robotics lab.
Research Area H
The goal of Research Area H is to understand why and how humans can perform vague instructions for everyday activities efficiently and respond quickly and flexibly to new situations. It investigates hypotheses about the form and role of Pragmatic Everyday Activity Manifolds (PEAMs) in competent human everyday manipulation tasks. Its aim is to design computational mechanisms that achieve such efficiency and are as adaptive as human activities.
H01: Acquiring activity models by situating people in virtual environments
(Akquisition von menschlichen Aktivitätsmodellen in virtuellen Umgebungen)
Performance of controlled experiments with humans performing manipulation tasks in specially designed virtual environments to investigate everyday activity strategies in unfamiliar or unexpected situations.
Subproject Leaders (PI): Prof. Dr. Kerstin Schill, Prof. Dr. Gabriel Zachmann, Dr. Christoph Zetzsche.


H02: Mining and explicating instructions for everyday activities
(Akquisition und Explikation von Instruktionen für Alltagsaktivitäten)
Investigation of methods for obtaining knowledge about everyday activities through reading instructions from the web. Disambiguation and completion of the instructions using simulation and Games with a Purpose.
Subproject Leaders (PI): Prof. Dr. Rainer Malaka, Prof. Dr. John Bateman.


H03: Natural activity statistics
(Statistische Eigenschaften von Alltagsaktivitäten)
Collection, Annotation, Analysis, and Interpretation of complex human everyday activities by a combination of statistically driven bottom-up and guided top-down methods in order to detect PEAMs, on which generative models of human activities will be learned.
Subproject Leaders (PI): Prof. Dr. Kerstin Schill, Prof. Dr. Tanja Schultz, Prof. Dr. Manfred Herrmann.
Research Area P
Research Area R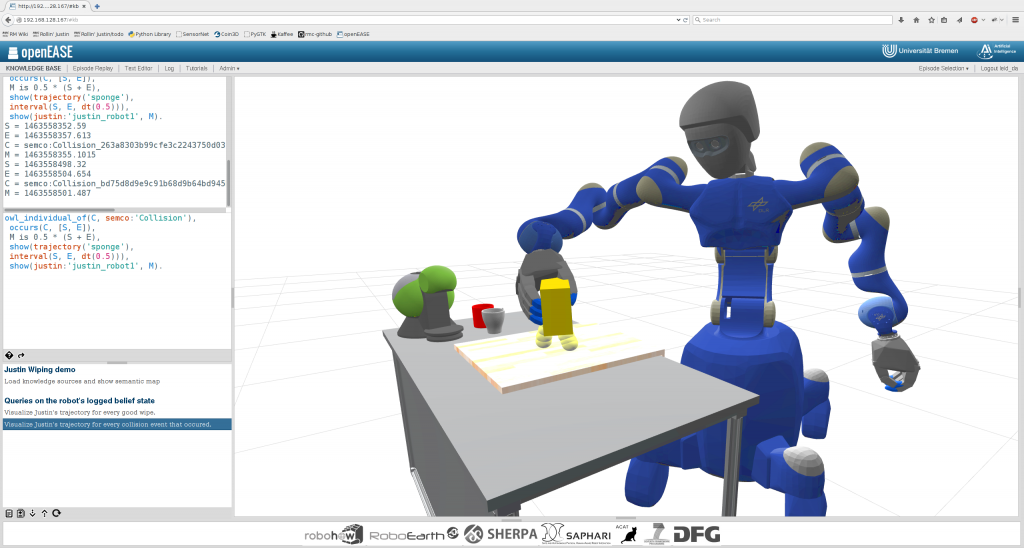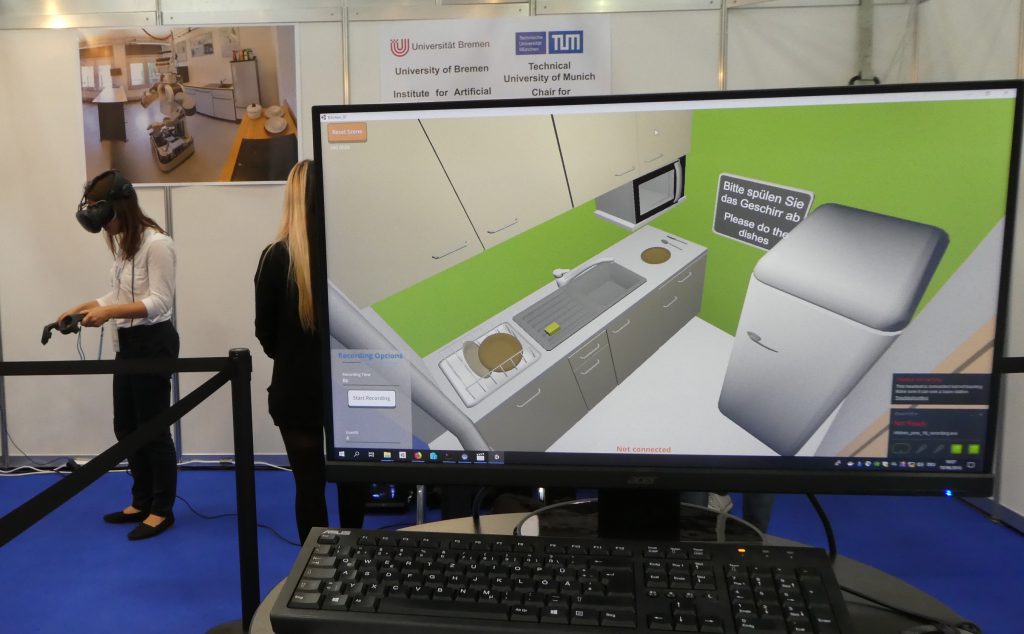 Pictures taken at the Automatica 2018 in Munich: Human demonstrations in a virtual environment. Visitors could put on VR glasses and move around in a virtual kitchen. 3D Modelling is used in several Research Areas. 

Photo Credits: Wibke Borngesser (TUM).