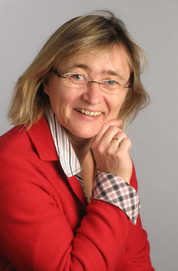 Prof. Dr. Tanja Schultz, Director of the Cognitive Systems Lab at Bremen University and a principal investigator (PI) in the CRC EASE, receives the prestigious "Google Faculty Research Award" with her project "EMG-to-Speech: Direct conversion of activities of the articulation muscles into audible speech". The project is one of five selected projects worldwide in the field of "Speech".
The Google Faculty Research Award program provides support to academic research at institutions around the world in the fields of computer science, engineering and related fields. The award is very competitive – only a small percentage of applicants receive funding, and each proposal goes through a rigorous review process.
Congratulations to her on this honor!
Google Faculty Research Award
Press release of Bremen University